Free Shipping
30 Days Trial
10 Year Warranty
If you don't love your desk send it back for free
Free Shipping and Tracking from
our door to Yours!
If you have any issue,
we'll make it right!
Our consultants are available on Monday through Friday from 9 AM to 5 PM Eastern
Operation: Retractable Crank Handle

2 Telescopic Leg Column
Load Capacity:

165

lbs (75kg)

Up Down Speed: 0.75″ (1.9cm) / revolution

Adjustable Height Range: (Not Including 1″ Desktop): 27.0″ – 45-7/8″ (68.5cm – 116.7cm)

Adjustable Frame Width Range:

 43-5/16″ – 73-5/8″ (110cm – 187cm)

Foot Length: Foot Length: 25 1/2″ (647mm)

 
Dimensions: 54″L x 30″W x 1″H (137cm x 76cm x 2.5cm)
Colors: Available in Black, Grey, White & Walnut.
The Pinnacle of Manual Sit-Stand Desks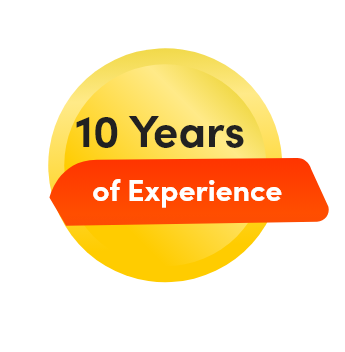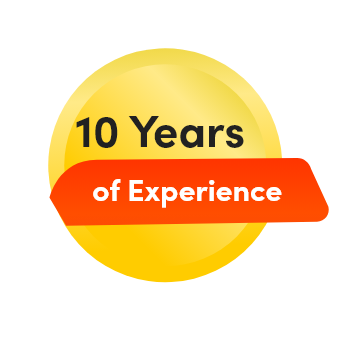 With the Studii, you're investing in a product backed by a decade of trust. Our 10-year warranty is a testament to the desk's unmatched quality and our unwavering commitment to you.
From hassle-free assembly, guided by our detailed video and manual, to free shipping, we've thought of everything to enhance your purchasing journey. Not entirely convinced? Try the Studii for 30 days. If it doesn't redefine your workspace experience, you're entitled to a full refund.
Every Studii is shipped directly from Canada, ensuring fast delivery and local quality assurance.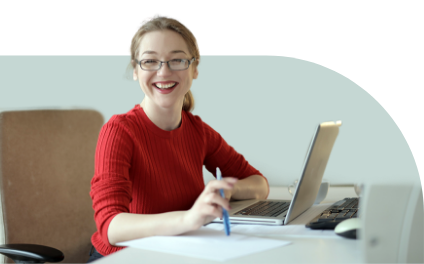 Our live support is available at your fingertips. Whether it's an inquiry or a concern, we're here to assist, ensuring you make the most of your Studii experience.
Customization at its Finest
Break free from constraints with our versatile desktops. Without pre-drilled holes, you're free to set the desk frame width to your precise preference. Crafted from dense wood fibers and wrapped in thermally fused laminate, these 1″ thick desktops are not just durable, but also ethically produced right here in Canada.
The Studii thrives even without electrical power, making it a standout choice for workshops and remote locations. The easy-to-use retractable crank handle ensures smooth transitions between sitting and standing. Designed with user preferences in mind, this handle can be attached on either side of the desk and discreetly tucks away when not in use.
Offering a dynamic height range from 27.0″ to 45-7/8″, the Studii effortlessly accommodates a variety of postures. Its unique quick-lift mechanism, optimized for inches per rotation, guarantees a swift and comfortable switch from sit to stand, catering to your posture needs throughout the day.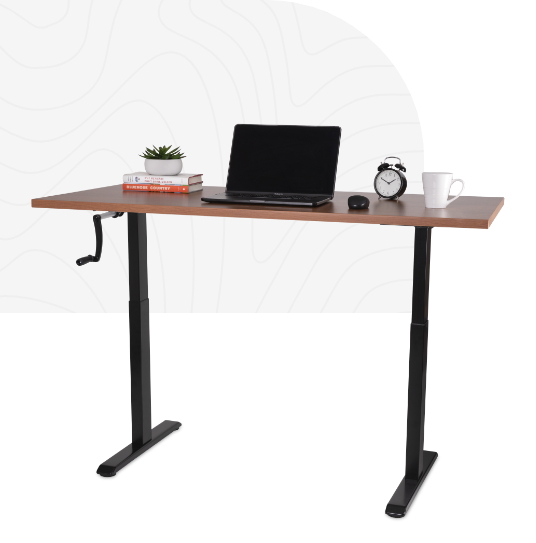 Experience the future of ergonomics with the Hiilo Studii – a masterpiece that's revolutionizing how you interact with your workspace. Crafted for those who value flexibility, the Studii marries innovation and practicality in one sophisticated package.
Supported by robust thick steel tubing legs, the Studii promises unparalleled stability, even when elevated to its maximum height. Its ability to support up to 75kg (165 lbs) ensures you can confidently place your essential work tools atop it.
Introducing the Hiilo Studii
where manual control, world-class craftsmanship, and ergonomic excellence converge. Elevate your workspace and productivity today.
Frequently Asked Questions
Begin by introducing what a smart desk is and its advantages, setting the stage for more detailed inquiries.
"The studii desk is great. perfect size, reasonably priced, easy to set up"
– Michel L.
"Everything works flawlessly. It was easy to set up and not overly complicated."
– Patricia P.
"Astonishing quality at a reasonable price. Everything was simple to assemble."
– Victoria P.
"Excellent product, really sturdy and of excellent quality. It only took about an hour to put together. This is a desk that I would recommend to others."
– Tiffany L.
"It was simple to set up and use, and I am very pleased with it. What's nice is that I use it in a little room that was previously storage, so there is no power or plugs in there, so this is the perfect solution. I wish I had bought this sooner. Thank you very much!"
– Alex W.
"Easy assembly, came as described, no surprises."
– Zoe G.
Even better than anticipated
"I just received my new desk, and it is AMAZING! Even better than I had hoped."
– Alessia A.
"Good quality desk at a decent price. Easy to set up and fast, reliable delivery."
– Andria D.
Improved the ergonomics of my workplace.
"I frequently draw storyboards for hours at a time. It's a lifesaver to be able to modify my body posture while still working. I almost opted for an electric desk, but honestly so happy with the crank feature since I don't have more wires in my already crazy setup."
– Kiara P.
"I love this desk! Easy to crank up, the base is quite lovely and the top is a nice size; not too big, not too small. Overall, it was very simple to put together."
– Sabrina L.
The ideal desk for students learning from home and avoiding COVID-19.
"It works perfectly! I can finally sit or stand while working, which is fantastic for my back."
– Luna D.
Free Shipping
30 Days Trial
10 Year Warranty